Can You Paint Tile?
Have you ever had an idea to transform your kitchen or bathroom tile from ordinary to extraordinary? Did you want to make those porcelain or ceramic tiles in your home stand out? Installing new tiles is a surefire way to make the design of the tiles in your home stand out, but have you ever considered painting your existing tile as a cost-effective alternative?
While some may think that adding color and vibrancy is impossible when it comes to tiles, this couldn't be further from the truth. With modern techniques and paints, it's never been easier to add personality and expression all with just one brush stroke. So let us explore how painting tile can add life – or cover over what you want to be hidden – in your home today.
Painting Tile
So can you paint the tile? The answer is yes. It is possible to paint tile and breath new life into outdated tiling. While processing may take several labor-intensive steps, if done correctly, the results are worth the effort.
But before you jump into painting tile in your kitchen or bathroom, it's important to weigh the pros and cons of doing so. From cost-effectiveness to durability, there are several factors that can determine if painting tile is the right choice for you.
Pro's
Painting tile is cost-effective
The ability to personally customize the appearance
Painting tile is a simple and straightforward process
Refresh your home without installing new tile
Painting tile can cover up imperfections in the tile
Con's
Painting tile can be very time-consuming
Painting tile can be labor intensive
It may require a specialty paint
If the paint is not done correctly, it will not hold up in high-traffic areas / will need touch-ups
The larger the space the harder it is to paint tile
What Tiles Can You Paint?
When it comes to painting tiles, not all tiles can be painted. It is important to understand the type of tile you have and if it can be painted before you begin any project. The best tiles for painting are porcelain or ceramic tiles as these can usually be easily painted over with a specialized paint that can hold up against wear and tear. Other tiles you can paint are natural stone tiles. However, glazed quarry tiles should not be painted due to their difficulty in covering them.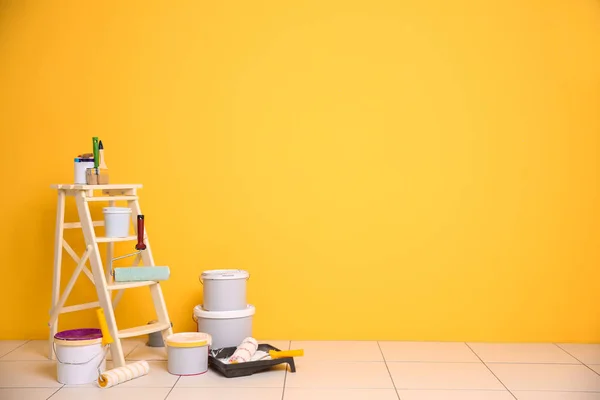 You can paint almost every tile but that does not mean you can paint every surface you have tiled. While most areas are ok for painting, there are some places in your home you should think twice about before you do anything to save yourself in the long run.
Bathroom
You want to remodel your bathroom tile but you do not want to get rid of that old tile that looks out-of-date. There is a better way to do it and a non-effective way to do it.
It is recommended to stay away from some bathroom walls and bathroom floors. The bathroom tiles on the walls in the shower or tub area are not good places to paint tile. The high exposure to water will make the paint crack, eventually, peel off the wall, and ruin your paint job.
The bathroom tiles on the floor are not a good place either to paint due to it being a high-traffic area where paint can prematurely wear.
Bathroom tiles most everywhere else that you know will not be subject to water damage or high foot traffic are a good place to paint.
Kitchen
Kitchen tiles seem to be an easy paint job, but there are still some things that you need to look out for.
It is best to stay away from areas in the kitchen where there will often be heat or moisture that will destroy the painted tiles. For kitchen floor tile, it is best to not paint those kitchen tiles either because people are constantly walking in that area. Some countertops are ok, if you do paint the countertops, be careful with what you put on them. Stay clear from directly putting hot pans or very wet items on those painted tiles.
Floors
When it comes to painting tile floors, the results can often be unfavorable. Some people will say you can paint floor tiles, but it is not recommended. Painting tile floors come with many risks due to foot traffic and exposure to the elements. It is a labor-intensive job and depending on traffic and how well you painted your tiles, you may need to touch up your tile floors every six months.
For longevity, it might be better to look into replacing tile rather than painting your floor tiles.
What is the Best Tile Paint?
Now you know the best kind of tiles to paint and different tile surfaces but do you know what the best kind of tile paint for your tiles is?
Here are a few options when it comes to choosing what type of paint.
When it comes to painting tiles, epoxy paint is widely regarded as one of the best paints to use.
It is proven extremely durable, boasting the most scratch, chemical, and water-resistant of all tile paints. Not only this, epoxy paint can stand up to constant cleaning and scrubbing from harsh cleansers without any damage or discoloration.
A close contender for best paint for painting tiles is enamel paint. Known for its glossy finish, many homeowners opt for this option as it is more aesthetically pleasing. However, it is not as durable as epoxy paint and cannot withstand such strong cleaning products over a long period of time.
Lastly, latex paint is also an option for painting tiles although it does not hold up well over intense usage or heavy traffic areas due to its lower resiliency qualities. Therefore epoxy paint is the recommended choice when wanting to update and protect your tile surfaces.
Know there are specific paints for certain areas. If you want to paint your ceramic tile floor, know there is a paint for that. If you want to paint the bathroom tiles near the shower, know there is a specific paint for that.
As mentioned above it is not recommended to paint tile floors and some areas in the bathroom, but if you decide, the Benjamin Moore floor paint and Benjamin Moore Aura Bath & Spa paint are some of the best paints to use for those areas.
When it comes to the paint color, you can choose whatever will go best with your home or room you are painting. Some people will pick a dark color to hide most scuff marks. Some people will choose the same color they used for their cabinets.
How to Paint Tile
You know what tiles to paint and the best type of paint to use for the tiles in your home. Now once you have gathered the information you need and know what, where, when, and how, you can start the application process.
Materials You Will Need
Tile Paint
Paint brush or foam roller
Paint tray
Painter's tape
Primer
Sandpaper
Drop cloths (optional)
Clean socks instead of shoes (optional)
Prep the Tile You are Painting
Before beginning to paint the tile, you must properly prep the entire surface. This first step in surface prep is crucial in ensuring that your paint job will turn out flawlessly.
Begin by removing any mildew/mold, dirt/grease, or sealant from the tile with a scrub brush and cleaner.
Next, sand down the surface of the tile with fine-grit sandpaper until it is smooth so the paint will adhere properly. If your tiles are glazed or have glossy surfaces, you will also need to roughen them up with sandpaper.
Now is also the time to repair any imperfections in your tiles if you can, to make painting easier when you get there.
When you are finished with cleaning and repairing, warm water can be used to gently wash away any surface dirt or debris, as well as any remaining sanding dust.
Make sure the whole room and entire floor are prepped to ensure clean up is easy. Once the tile and room are clean and prepped, you are ready to begin painting!
Prime Your Tile
After preparing the surface of the tile, the second step in painting is to prime it. Priming ensures that the paint adheres properly and resists paint chipping and fading.
To prime tile, start by purchasing an oil-based bonding primer or a shellac-based bonding primer for glossy finishes, as these two types are water-resistant and result in better coverage.
Start by lightly sanding the surface of the tile with fine sandpaper to smooth out any imperfections (this should be done during the prep) and then using a brush specifically designed for painting, apply a thin layer of the bonding primer over the entire area.
Once you have applied a single layer, wait at least four hours before applying a second coat or any additional coats to ensure proper adhesion.
Following these simple steps not only results in a quality finished product but also prevents potential problems when attempting to paint tile.
Paint your Tile
Firstly, select the paint colors you will use for your first coat, making sure they are suitable for use on tile surfaces. If you decide to paint your floor tiles, make sure you get a good floor tile paint that will be the best for your floor tiles.
After cleaning your tiles to remove any residue and priming them, pour your tile paint into a paint tray and begin to implement a first coat of paint using light motions to ensure an even layer of the tile paint covers the tiles. Allow the first coat of paint to dry completely before applying a second light coating.
As you begin the second coat of tile paint, focus on any area that requires more attention or coverage and make sure not to over-apply – this can create slick areas or water-trapping sections that may result in mold and bacteria formation later. Apply more coats if needed, you need at least two coats.
As you are painting floor tiles or wall tiles, know that grout lines will be painted over and will take away some characteristics of the tile since grout lines will become the same color as the paint.
When you have finished these steps, allow for the coats of tile paint to thoroughly dry making sure you do not disturb them during the process; this will let assure you that the job is done correctly.
Seal the Paint
The next step in painting tile is to seal the paint. Applying a sealant or top coat is important to ensure that your paint job will last and can withstand everyday wear and tear.
Applying a top coat will provide a protective layer over the paint. A top coat will also give the paint a glossy, satin, or matte finish.
It is important when applying a top coat to ensure that it is evenly and carefully applied. First, mix the top coat with a clean mixer before application.
Next, use a paintbrush or roller to apply the top coat in even strokes, with the same technique just as you did with painting the tile.
Lastly, let it dry completely before using or touching up any areas. With careful application of topcoat, your painted tiles will look beautiful and new for years!
The next step after sealing the paint is to let it cure. This can take anywhere from 24 hours to up to a week depending on the type of top coat used.
You Are Done!
Once you have followed all of these steps you have completed painting your tile. You can sit back, allow your paint to dry, and relax.
Hopefully, this blog has helped you in your adventure of painting your tile, whether that was from knowing what type of paint to buy or how to paint tile.